Andrey Osipovich Sikhra (1773-1850)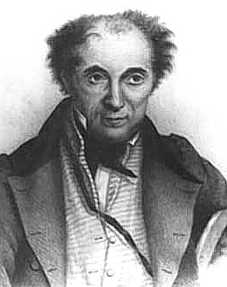 Andrey Osipovich Sikhra was born 1773 in Vilno (the modern Vilnius) in the family of a music teacher. In the youth he concerted as harpist, played the six-stringed guitar. Then he was keen on the seven-stringed guitar and devoted to it his whole life. 1801 the musician went to Moscow where he began to make a repertoire for the seven-stringed guitar and to teach his first disciples.
Sikhra, a talented musician, kind and charming man, was soon an idol of many followers and admires.
After the proscription of Napoleon from Russia he went to Petersburg and remains here till the end of his life (died 1850). Here, in Petersburg, he, a ripe musician and pedagogue, creates his school of playing at the seven- stringed guitar. A. Sikhra was not only a talented but also highly-educated musician. He was high valued by M. Glinka, A. Dargomyzhskiy, A.Varlamov, A. Dyubyuk, D. Fild and many other workers of Russian culture. The famous singer A. Petrov learned by Sikhra to play guitar. The biographical vocabulary of Russian historical society named Sikhra "patriarch of Russian guitarists". From his followers the most famous are S. Aksenov, N. Alexsandrov, V. Morkov, V. Sarenko, V. Svintsov.
Sikhra wrote for the guitar pieces and exsercitions; 1802 he began to issue in Moscow "Magazine for the seven-stringed guitar". He issued also "Exsercitions" and "Theoretical and practical school for the seven-stringed guitar", devoted to his follower V. I. Morkov.
Mark Danilovich Sokolovsky (1818-1883)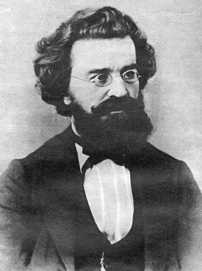 Mark Danilovich Sokolovsky was born on the 25th of April 1818 near Zhitomir in a Polish family. The interest for music was shown by the boy in an early childhood. From the six years he doesn't leave a small guitar with he has found on the garret of their house. But the parents don't encourage his musical lessons. But Mark can't already live without music. Coming with parents to Berdichev he masters without assistance by schools of guitar playing of M. Giuliani, L. Lenyani and K. Merts the performance skill bases, and studies also to play piano, violin and violoncello. On the 26th of May 1841 at the age of 23 years M. Sokolovsky makes his debut in Zhitomir with the concert e-moll of F. Carulli. The young guitarist was hearty welcomed by the audience. Inspired by success, he gives concerts in different tows of Ukraine.
1846 M. Sokolovsky gave his first concert in Moscow, which had a great success and strengthened the artist faith in hisself, in his talent.
Every year grows the guitarist popularity in Moscow. On the 8th March 1857 he gave the concert in the largest hall of Moscow – in the hall of Noble assembly (now Columns Hall of Union House). "Moscow gazette" (21yh of March 1857) noted, that at Sokolovsky's concert were present more than thousand audiences. Other Russian newspapers wrote also of guitarist's success.
1858 began the tours of Sokolovsky abroad. Vienna audience was delighted with the Russian artist: nobody of guitarists had such a cordial welcome. The foreign press wrote of his concerts as of a wonder. The famous German critic E. Etinger named M. Sokolovsky "Byron of guitar", saying that his play "inspires life even in the stone". The artist wrote to his mother that he must now have precedence in Europe.
After Vienna, M. Sokolovsky performs in Warsaw, Vilno, Kovno (now Vilnius, Kaunas), Minsk, other Lithuanian and Byelorussia towns. After one of the concerts in Minsk, A. Kontsky, the most famous in that days polish violinist, Paganini's follower, presented him his photo with the inscription: "To the well-known artist Mark Sokolovsky as a sign of our delight and love. Apollinary Kontsky, Minsk, 2/14 October 1858!"
The triumphal performances of M. Sokolovsky in Wiesbaden, Paris, London, Berlin, Brussels, Dresden, Milano, Krakow, Warsaw in 1863-1868 gave him the glory of one of the most brilliant masters of guitar playing.
As famous musician M. Sokolovsky returned to Russia. On the 25th of January 1869 was his concert in the overcrowded hall of Bolshoi Theatre.
The performances of Sokolovsky continued till 1877 but they were very seldom because of the artist illness. The last public concert of the master was 1877 in Petersburg in the hall of court singing choir. His last years M. Sokolovsky lived in Vilno where he died on the 25th of December 1883.
The famous musician-virtuoso is buried on Vilno cemetery Rasu (near him is buried the famous painter and composer M. K. Churlenis). On the grave is a fine small tombstone with the bronze picture of artist and words: Mark Sokolovsky – famous European guitarist – 25th of December 1883 – 65 years old.
Mikhail Timofeevich Vysotsky (1791-1837)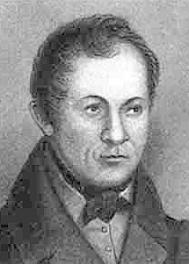 Mikhail Timofeevich Vysotsky – Russian guitarist-virtuoso and guitar composer. He learned the guitar playing by S. N. Aksenov. He was interested for classics, especially for Bach, whose fugues he tried to arrange for the guitar. This affected the serious and noble style of his guitar compositions: most of all phantasies and variations of Russian folk themes (cycles from 4-5 variations with "preludes" and "endings"), there are also arrangements for the guitar of Mozart', Beethoven' and Fild's pieces (the musician knew the last) and others. 83 of them are issued, also his "Practical and theoretical school for the guitar" (1836).
The birthday of M. T. Vysotsky is not exactly known, on one of his compositions manuscripts with the hand of his son, Nikolay Mikhaylovich, is written "Compositions of M. T. Vysotsky, died on the 16th of December 1837, in age of 47 years" So the year of his birth is 1791.
Childhood and youth were spent in the near Moscow estate of the famous poet-pseudoclassic M. M. Kheraskov, the author of "Russiada" (1733-1807). Vysotsky was godson of Kheraskov and was named Mikhail to his honour. Vysotsky's father was a serf and served as a bailiff by Kheraskov. After Kheraskov's death in 1807 Vysotsky lived some time in the estate and 1813 went to Moscow, got registered to the petty bourgeoisie and spent all years of his life in Moscow.
To that time belong the first compositions of Vysotsky, which soon made the young author famous.
He becomes Moscow celebrity, is everywhere invited and favourite. Among his friends and admirers are the names of M. A. Stakhovich, M. Ju. Lermontov, Kovraysky, A. L. Polezhaev, Puzin, A. I. Dyubyuk and other more or less famous workers of music and literature.
His play was notable for strength and classical equability of the tone; by the unusual quickness and courage it had charming sincerity and melodiousness. He played absolutely easy, without any efforts; there were no difficulties for him; that's why, the play of him, amazing and wonder-strucking, made a truly musical effect; he didn't like fashionable refined instrumental effects, never used flageolets with two fingers of the right hand, which made so large furore in concerts; seldom, in the most difficult variations went higher than fourteenth tune and always at one fifth: all the beauty and strength of his play were in melody and harmony; he striked with the originality of his legato and luxury of arpeggio, in which he combined the power of harp with the melodiousness of violin; in his play was the special original style of composition; his play fascinated, riveted the attention of the audience and created indelible impression.
Nikolay Petrovich Makarov (1810-1890)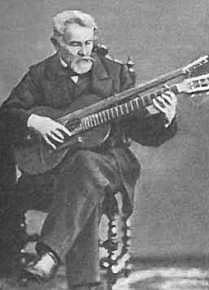 Nikolay Petrovich Makarov – the famous Russian guitarist-performer. He was born 1810 in Chukhloma of Kostroma region. His childhood he spent in the estates of his father and his aunt M. P. Volkonskaya. He served as an officer in the army. From childhood he played violin. In the age of 28 years he interested for guitar, in the period of study in the military academy in Warsaw he learned to play at the six-stringed ("Spanish") guitar and working daily 10-12 hours, had soon significant success.
The first concert of Makarov took place in Tula 1841 in the hall of Noble Assembly, where he played the first part of M. Giuliani's third concert. 1852 Makarov goes abroad, where he meets with greatest guitarists of Europe: Tsany di Ferranty, M. Carcassi, N. Kost, I. K. Merts, guitar master I. Shertser.
Makarov was a high-educated man, he is known as a lexicographer (author of some dictionaries: "Full russian-french dictionary" St. Petersburg, 1867; "Full french-russian dictionary" 1870; "Full german-russian dictionary" (together with A. N. Engelgardt and V. V. Sheerer, 1877) and "International dictionaries", 1873-76 – each of them had many issues) and novelist (though Makarov's works of this kind hadn't serious significance). To N. P. Makarov belong the words of the famous romance of A. L. Gurilev "Monotonous rings a bell" and also original pieces and arrangements for the guitar.
1856 he tried to organize All-russian competition of guitarists, composers, writing for guitar and masters making those instruments, but his initiative didn't find support. Only abroad Makarov could realize his intention, 1856 in Brussels was the first international competition for the best guitar composition and the best instrument. Makarov himself had a great success at the competition. The first prize for the best composition received I. K. Merts for the piece "Concertino"; the second – Napoleon Kost for the composition "Great Serenade"; first prize for the best instrument – Austrian master I. Shertser, second – Russian master I. F. Arkhuzen.
Makarov wrote some books of the guitar, for example, "Some rules of the highest guitar play" and also autobiographical works "Sincere Confession", published in the magazine "Contemporary" in November 1859 and memoirs "From seen and heard" ("Ears", 1891 n. 11-12; 1892 n. 3) issued after the author's death.
N. Makarov died 1890 in the village Funtikovo-Rozhestveno of Tula region.
Alexander Mikhaylovich Ivanov-Kramskoy (1912-1973)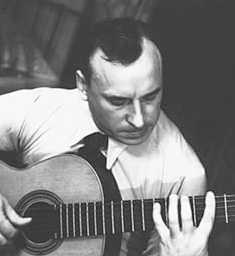 Alexander Mikhaylovich Ivanov-Kramskoy – his name in the Soviet Union was the model of guitar skill, musical taste and fine understanding of russian musical folklore specificity for all guitar amateurs of our, at that time powerful and immense, home land. His name was well-known not only in the Soviet Union, but also abroad. The skill of this famous musician, brilliant virtuoso had a great success by the audience, guitar amateurs.
Alexander Mikhaylovich led extensive concert activity. His first concert took place 1932, when Ivanov-Kramskoy was still a student of Moscow conservatory. From that time began his performances by radio and on the country concert stages with solo programs, in ensembles. His name could be met on the bills of Obukhova's concerts, the Beethoven and Komitas quartets. During many years the guitarist performed in ensemble with I. S. Kozlovsky. Alexander Mikhaylovich said: "My life is devoted to the six-stringed guitar".
To Ivanov-Kramskoy belongs the great desert in creation of solo concert repertoire for the guitar. His programs included music from all epochs, from composers of the XVIth century to modern composers. Ivanov-Kramskoy acquainted the audience with many forgotten or little known compositions for guitar, in particular with compositions of russian composers.
He is the author of many compositions, including two concerts for guitar and symphony orchestra, numerous pieces and arrangements.
Very fruitful was the pedagogical activity of A. M. Ivanov-Kramskoy. He taught in the college by the Moscow State conservatory and at the Culture Institute, he was creator of the first in the Soviet Union amateur guitarists ensemble by the Moscow Culture House "Red textile-workers", on example of which were organized similar groups in many towns of the country. He is the author of "School of playing at the six-stringed guitar", on which worked many musicians-professionals and amateurs.
Many reviewers, noting his timbre richness of sound, masterly technique, emotionness and interpretation nobility, fine style feeling, named him "Guitar magician".
1959 he was honoured with the title of "Honoured Artist of Russian Federation". From 1932 he worked also at the All-Union radio. 1933 he performed as soloist and ensemblist. 1939 he was honoured with the second prize of the All-Union radio at the All-Union competition of performers at folk instruments and from that year to 1945 he was the conductor of USSR NKVD song and dance ensemble. Then from 1947 to 1952 he was a conductor of Russian folk chorus and orchestra of folk instruments. From 1960 he taught in Musical College by the Moscow conservatory.
http://www.lute.ru/guitar/Ivanovkramskoy_eng.htm